For High-Pressure Hydraulic Cylinders, Which Pipes are Used?
Views:220 Author:Site Editor Publish Time: 2020-02-10 Origin:Site
Seamless pipes that are used for high-pressure cylinders are known as honed hydraulic tubes. They are further divided into two categories, pneumatic cylinder pipe and hydraulic cylinder pipe. The seamless pipe suppliers produce them by keeping them in extreme cold pressure for good tensile strength. The standard pressure that the hydraulic seamless pipes undergo is not more than 52 kilograms per square centimeters.
Heavy precision machinery is used to regulate and create strength at an H8-H9 level, particularly in the inner diameter. The surface thickness of stainless-steel hydraulic tubing is ideally 0.2 Ra micro-m to extend the durability and use time span of the cylinder.
Different stainless-steel hydraulic tubing sizes are manufactured by renowned seamless pipe suppliers to reduce the wear and tear of the cylinder's seal. Every manufacturer and factory has its own inner diameter and buffing ID length. However, most of the manufacturers try to reach a buffing ID length of no more than 13000mm.
Seamless Pipes Suppliers
The seamless pipes suppliers produce a huge range of cold-drawn and hot-rolled hydraulic tubes. Them and their components are basically made with alloy steels, micro-alloyed steels, and carbon so that they can be used for cylinder bodies, telescope cylinders, cylinder accumulators, piston rods and much more. These cylinders have a wide use in markets, especially in the crane, windmill and earthmoving machine industries.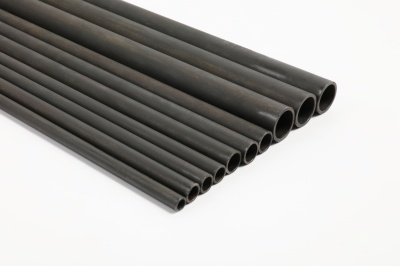 Completely Integrated Production and Manufacturing Line
Specialized manufacturing and production lines and R&D centers are accountable for the completely integrated production line. The manufacturers usually build a complete portfolio according to the demands and needs of customers, that has to be certified by a country/city.
The honed hydraulic seamless tubing is always fully tested in the laboratories of the suppliers to ensure that they can endure severe working conditions. They are tested through low and high working pressures, temperatures and other endurance tests such as real load spectra.
Mostly, the tests are obtained on the pipes and hydraulic cylinders components together to analyze the failure modes in depth.
Extended Dimensional Range
Seamless pipe suppliers offer unique stainless-steel hydraulic tubing sizes along with wide dimensional range for hot-rolled and cold-drawn pipes. The tubes for the hydraulic cylinders are usually characterized on the basis of controlled surface quality, eccentricity, high steel cleanliness, easy maintenance, little to no corrosion and dimensional tolerances.
Fatigue Life in Extreme Working Conditions
The suppliers must set high degree performance propriety standards so that the tubes can be used in extreme working conditions such as low temperatures, high pressure. In short, they should guarantee fatigue life above 50% of standard hydraulic pipes.
Hydraulic pipes are sometimes manufactured according to the specification given by the clients. Moreover, the clients can also avail honing facility from the contractor or supplier that are done by vertical and horizontal machines.
In order to optimize the consumer supply chain, the manufacturers provide tubes in different conditions-rolled burnished, cut to length and skived. Most of the components that come with the hydraulic tubing are welding-ready for quick installation.