Advantages of seamless steel pipes
Views:169 Author:Site Editor Publish Time: 2020-06-28 Origin:Site
Seamless pipe (or stretched steel pipe) is manufactured from a cylindrical steel ingot using hot-rolling, cold-rolling, or cold-drawing processes, without any seam (welding) on the tube body.
The steel pipes are ideal for transporting fluids such as gas, water, air and waste. They have excellent properties, which allow them to adapt to any type of application and installation.
There are two types of steel pipe, seamless steel pipe and welded steel pipe. The pipes seamless steel are manufactured through the passage of liquid steel by a rod to create a hollow tube. They offer a series of advantages that guarantee the effectiveness of the process or installation.
Let's look at some of the major advantages of the seamless steel pipes:
Seamless steel pipes have a more homogenous microstructure. This provides them with the ability to withstand high degree of pressure.
Adding accessories and installation processes are made a lot easier as these pipes manage to maintain their round cross section.
Unlike seamless pipes, seamless steel pipes are much more efficient and firmer.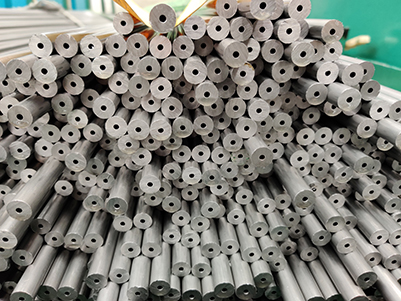 Steel pipes
These types of pipes have fewer points of failure. This makes pressure calculations easier to perform. This is also because the quality of the weld, which is out of the equation.
Compared to seam pipes, this type of pipe does not usually present faults or leaks, guaranteeing the effectiveness of the application.
They are resistant to corrosion and develop good overall performance.
They have excellent cold and hot machining performance.
According to carbon steel pipe suppliers, they are ideal for the chemical, petrochemical, and fishing industries, as well as for the mining and energy sectors.
Why Should You choose the Seamless Steel Pipe over the welded pipes?
The reason that most people prefer seamless tubing over welded (seam) tubing is because they can withstand very high pressures without cracking as seen in the high pressure fuel pipe. Welded pipes cannot do the same, since the seam, i.e. the point where the sheet has been welded, is very vulnerable to cracking under high pressure conditions. Also, it is very easy to calculate the maximum pressure levels for seamless pipes. These tubes are lighter in weight and thinner and when compared to the welded tubes. Also, there is a uniformity in the shape since they are made from an alloy that goes through an extrusion process.
Seamless steel tubing withstands higher pressure levels, making it stronger than ERW welded tubing. For this reason, it is very common to find this tube in high pressure equipment, or thermal industries that work with boilers.
In general, the seam of the weld tube is its weak point, and this quality affects its final performance.
There is a wide range of seamless stainless steel tubes for sale in the global market. However, the cost of seamless pipe is higher than that of welded pipe; This is due to the raw material and the manufacturing equipment and processes used. But sometimes, due to fluctuations in the market, the welded pipe has a higher cost, so if you get to know this kind of situation, do not hesitate to buy seamless pipe for the same dimensions.